I won a challenge!!! Yeay!!
Look...
Here is the
card
I made feature Elisabeth Bell's digi Sweet Rapunzel...
And I also made top 5 at Magnolia Down Under on their Edwin Only-challenge a few weeks back... The card I made was with
Skiing Edwin
Yeay again!!!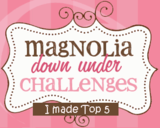 However I didn't write this post just to brag... :-) It's acctually a reminder for you to stop back later and see the gorgeous new release from Elisabeth Bell!!! How great is that! A perfect friday - isn't it??